Hello,
As most of you may know from being in a band, you seem to gather a fair few pictures, be they taken by a photographer (which wont be used as they caught your bad side or make you look 900 years old) or by yourselves to stave off boredom while playing shows etc.
The vast majority of them wont be used for anything other than clogging up my pc, so heres where I had the idea for the artwork for our new single.
The inlay (which is the paper case inside the more professional looking outer case) will feature a picture to do with the band, it doesn't even have to be of the band just sentimental things really
I myself still take pictures of posters we appear on whenever we play a show. Its almost as if i'm saying to myself "Oh effing christ, someone has cared enough to write our name on something"
Sad I know
Anyway to give you an idea of the inlays heres a mock-up ive done over the past day or so
I think we will have a pink and black theme running through the release much like one of my heroes
The Pink and Black attack Bret "Hitman" Hart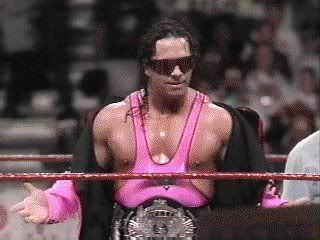 IT WILL NOT BE WRESTLING THEMED THOUGH so dont worry about that.
Annnnnnnnyyyyway
Each picture will have a reason written on the back of the story behind it.
I offer some examples below:
This picture is from the first time we played London, I think it was a place called The Dry Bar, after we played we thought we would go out onto the streets of London and take some "Promo Shots", as the picture evidence will confirm it didn't go according to plan as we clearly had no idea of how to stand.
This picture is taken from the stage at a Halloween gig at Katie Fitzgeralds in Stourbridge.Keith Decided to wander off into the crowd and I took a picture(although I probably should have been playing guitar).If you look closely you can see Jens mum after being whacked on the top of the head by a guilty looking guy with a camera.
This picture is of our "Choir" that we used to record Collapsible Friend.Some had stronger voices than others but the finished product came out fantastic
Picture from the Little Civic in Wolverhampton.Members of our fave bands (Library Of June and Bears In Caves) are in this picture.I think we were main support to Amusement Parks on Fire that night
Each one will be different ( I have loads of Pictures)
Should you have a favourite photo of us,about us that you would like to include please feel free to email them to kidnapperbell@hotmail.co.uk
The cd will also come with handwritten lyrics and a possibly a free download!
YAY